Hello lovely Toronto brides!  
Did you make it to the The Wedding Company Spring Show last Saturday at The Drake? I had loads of fun meeting brilliant local vendors, designers, artisans, photographers and wedding service providers.  Inspiration was everywhere and everyone I met was excited to share their work.  
If you missed it, not to worry!  Here are some highlights from the show. 
(I apologize for my generally awful photographs, the lighting was difficult and my photography skills (and camera) are less than stellar — I'm attending a photography workshop this weekend in hopes of improving!)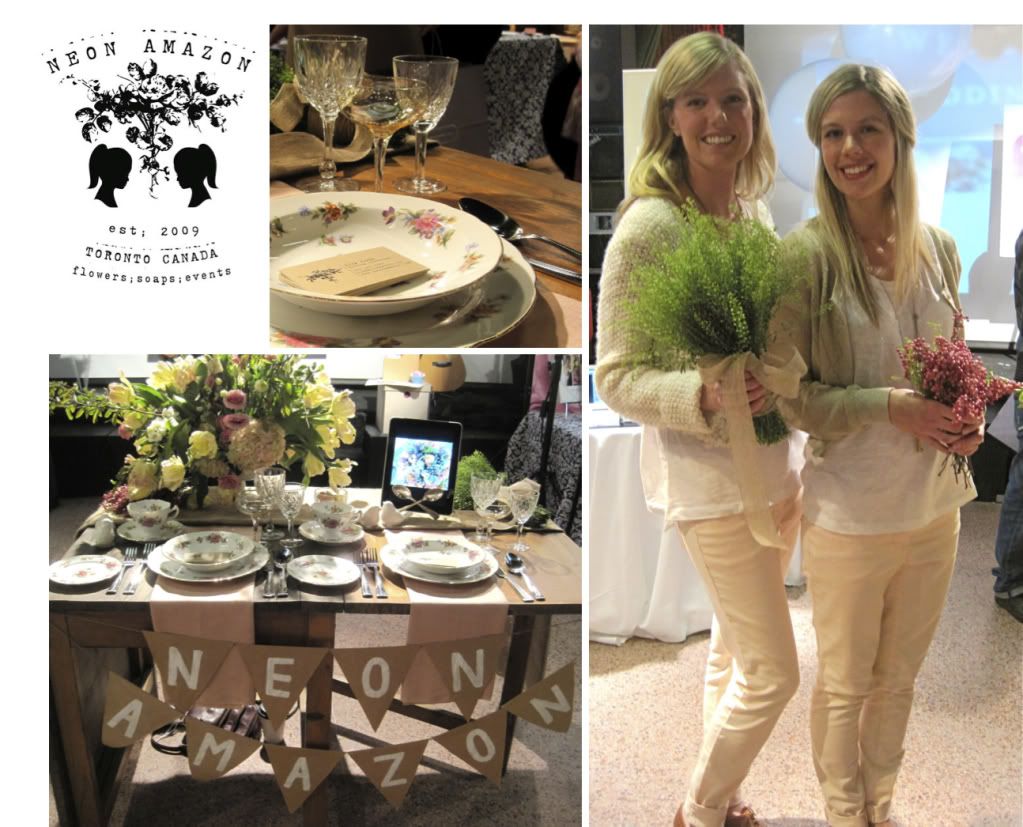 It was a pleasure to meet Lisa and Kelsey of Neon Amazon!  Combining 10 years event planning experience with 15 years of floral styling they make the perfect pair to provide all the help you need in making you wedding magical.  Their warm smiles, friendly conversation and excitement about their business made it clear to me that these two just loveto make their clients happy.  My absolute favorite part about Neon Amazon is their use of local, seasonal and handpicked.  The flowers they use in their arrangements and styling are all grown on a family farm near London, Ontario.  Kelsey explained she enjoys being a part of the entire process, from growing to picking to creating beautiful arrangements for clients.  That's a lot of time, love and care!
Be sure to stop by the Neon Amazon website and discover their wide-range of wedding and floral services.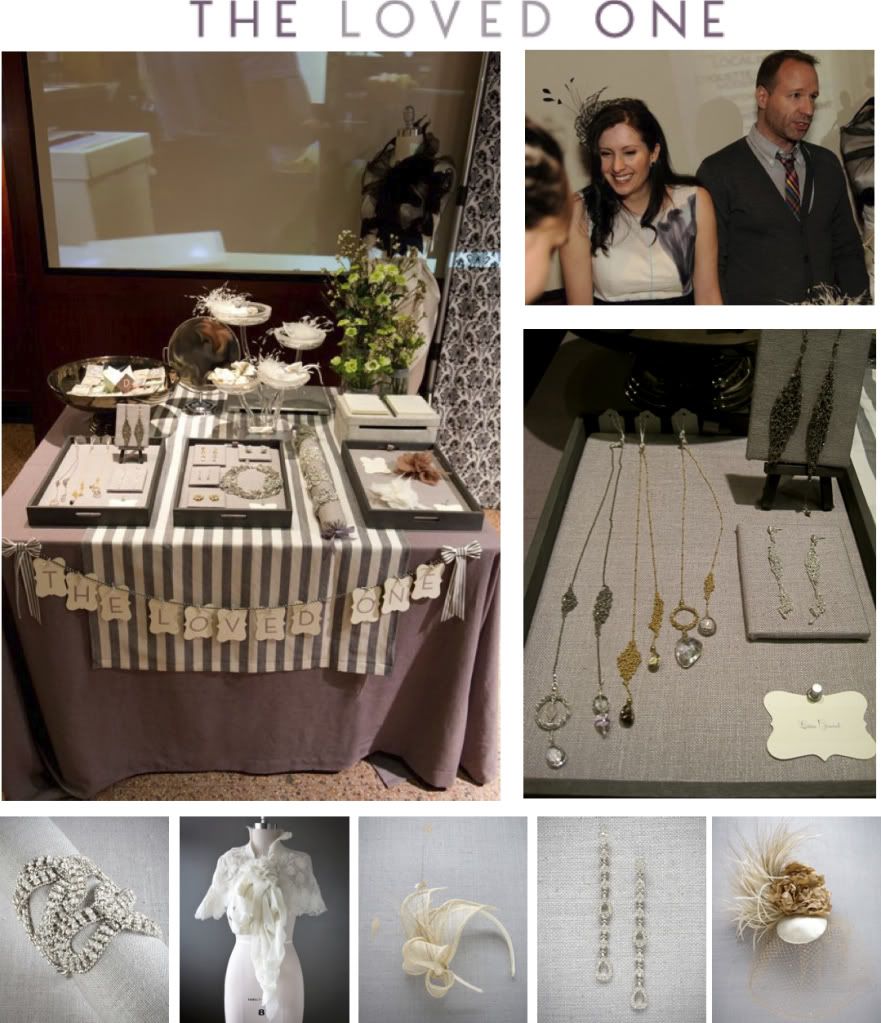 Top left and upper right photos via The Loved One Facebook page, bottom row photos via The Loved One website.
The Loved One's online collection is, in a word, stunning.  Much of their elegant and luxurious accessories are designed by Toronto artisans, including the necklaces I instantly fell in love with (lower right photo) by local designer Lissa Brunet.  Owner and curator Antonia explained how the one-of-a-kind shrugs, wraps, caplets and scarves are individually hand woven by Toronto designer Lorena Santin Andrade through a meticulous and sustainable process called wool felting.   For the bride who is looking for unique and timeless pieces to complete their wedding day look The Loved One is a must.  
Visit the website to see more and set up a personalized consultation.  
p.s. Antonia was joined by interior designer and stylist Paul Semkuley of Toronto-based re:source lifestyles. The two made a fabulous team and I had a great time chatting with them!
Amy of Curtsey Bridal is passionate about everything wedding-related.  We connected over a mutual love for wedding blogs and all things pretty.  I love her story: unable to find the perfect bouquet for her wedding she decided to create one herself and loved the result.  Recently, she started sharing her work on Etsy and doing custom orders.  Her creations are on-trend and inspired by nature.  I can see them working beautifully for a backyard reception or a downtown-affair. Her boutonnieres, bouquets, centerpieces and favors are all handcrafted at home in Guelph, Ontario.  
Check out all of her creations at her Etsy store.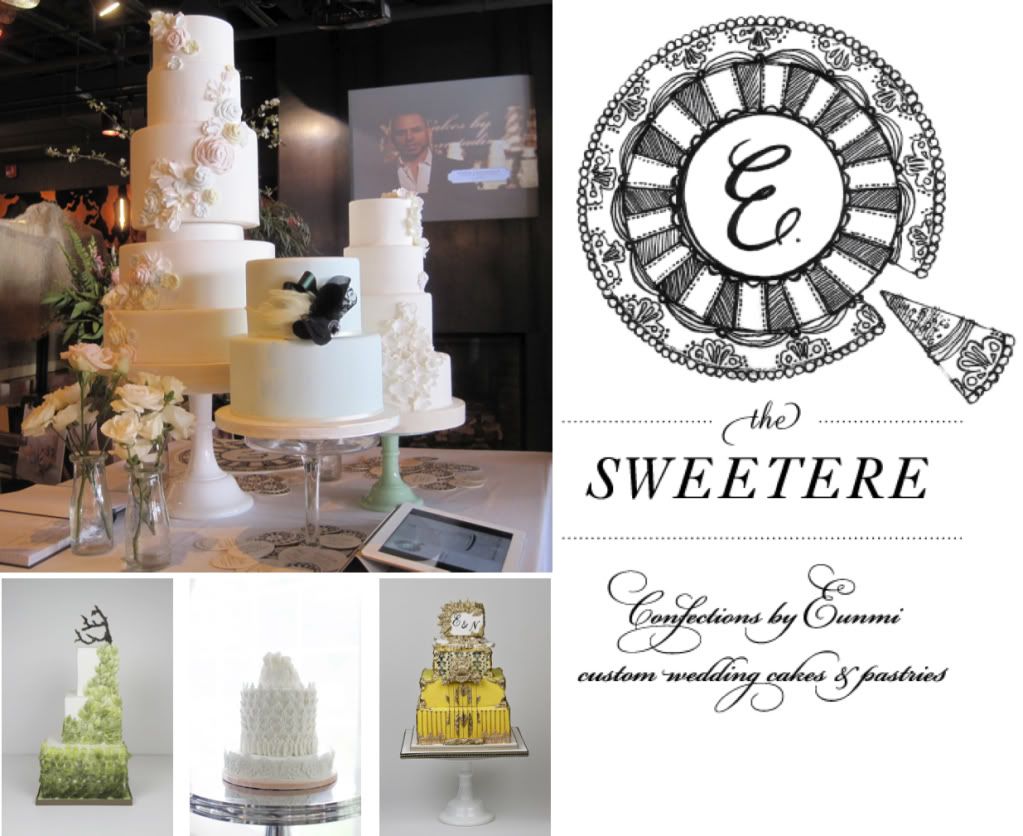 Photo credits: all bottom row images from Sweetere website.
I did not get an oppurtunity to actually meet Eunmi of Sweetere but I just had to let you all catch a glimpse of her talent for creating spectacular cakes and confections.  Anyone who is looking for an unforgettable cake must stop by her website to see her menu and place an order.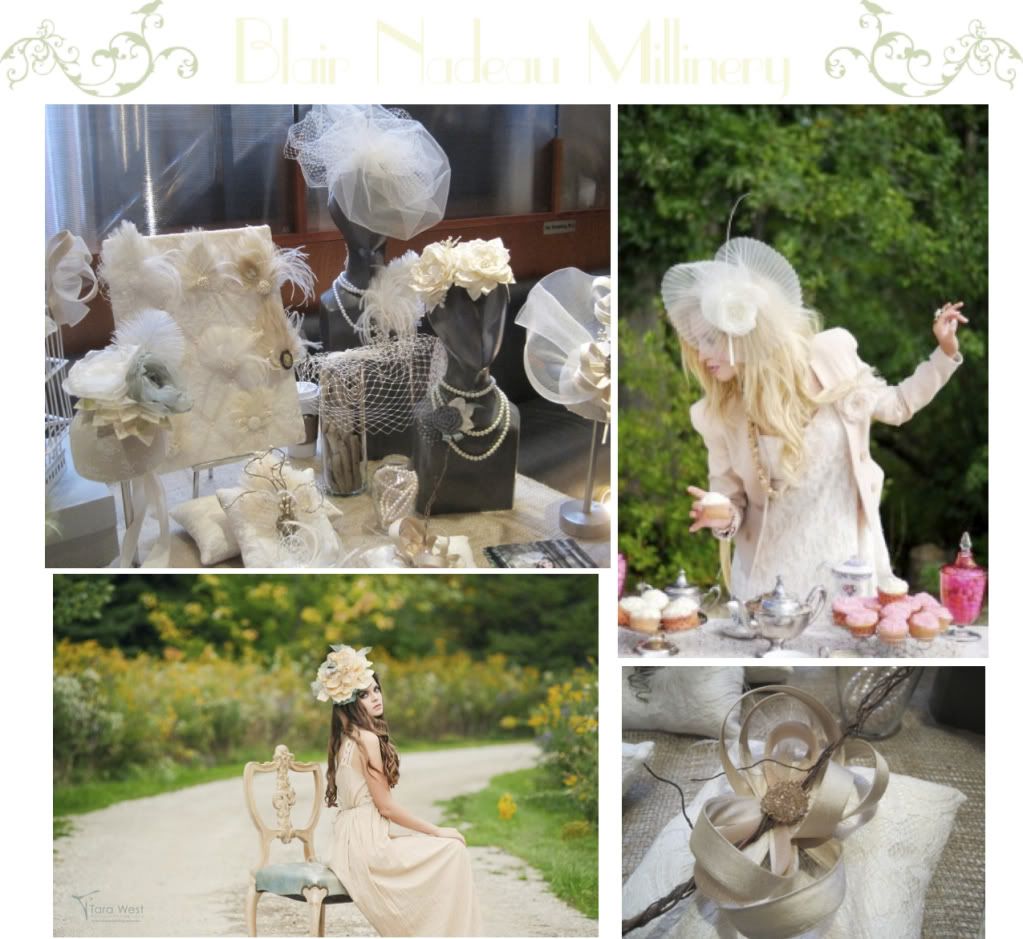 Photo credits - Bottom Left: Studio West Photography (Tara West). Top Right: Gregor Moss. Styling, make-up hair etc. can be found here and here. 
I was simply dazzled by Blair Nadeau's collection of modern vintage hats and fascinators!  Each piece is made exclusively by Blair in Toronto using the highest quality materials.  Any bride looking for both drama and elegance will be pleased-pink by her creations!
Visit her website to see more gorgeous photographs and find a retailer near you.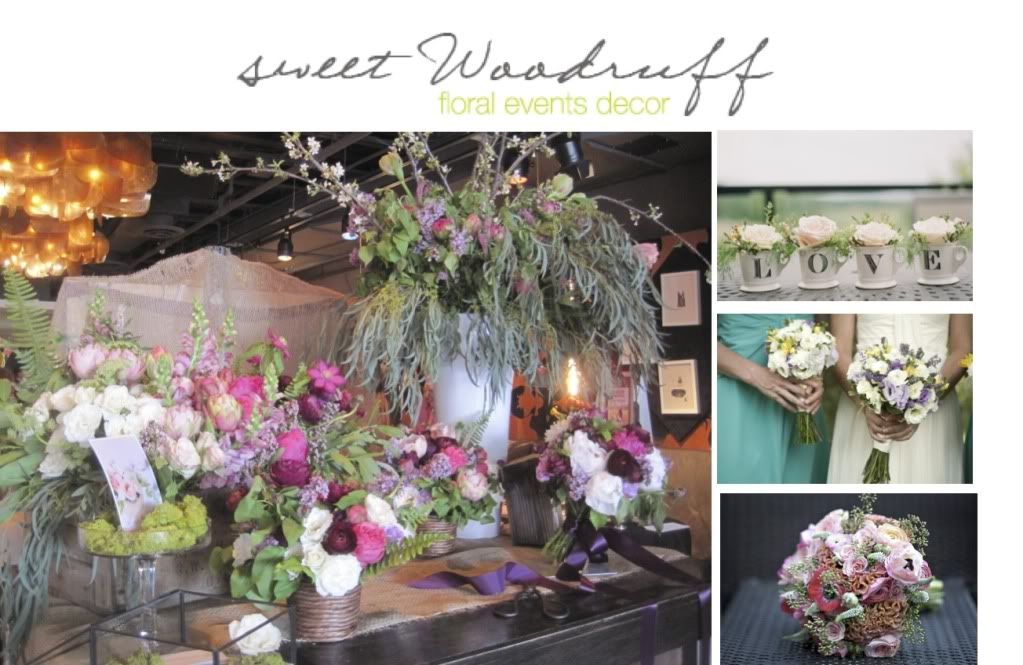 Photo credits: top right Peter Mckinnon Photography, middle right by Laura Jane Photography, bottom right Lemon Fresh Designs Photography. 
The main reason I still read wedding blogs long after my wedding has passed is all the lovely floral inspiration.  I am crazy about flowers!  Which meant I was instantly in love with Sweet Woodruff.  Lisa's table showcased her floral design chops in a big way.  She is super approachable and friendly, I'm sure she would be a pleasure to work with.  
I was excited to learn that she has a storefront location opening this weekend near Dundas and Ossington — more details on that to come this week. 
For now, visit the Sweet Woodruff website to learn more about the variety of floral and event design services offered and to feast your eyes on her lovely portfolio. 
I have much more to share, including how brides can enter to win a pair of round trip tickets to Italy, so be sure to check back later today for part two!
All photos by Rachel Headley unless otherwise stated.