The Wedding Company Spring Show made me so happy I started this blog.  When I started out I knew Toronto had talent and I wanted to share that but, honestly, I didn't know it had this much talent!  Every new local boutique, designer, artisan or vendor I discover gets me excited all over again and reminds me why The Block exists — to celebrate our local creatives and help you discover, support and enjoy them.  
Here, my friends, are more lovely local sources for your wedding-planning needs: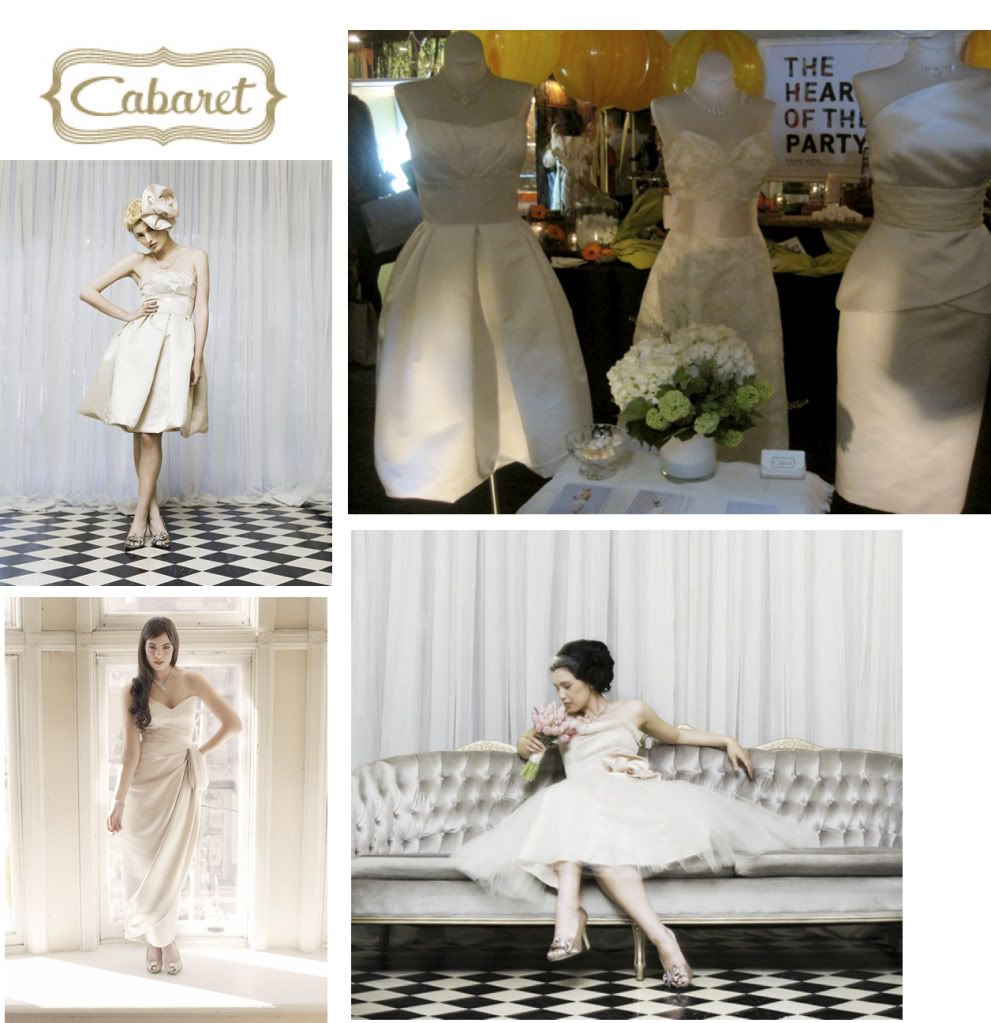 All photos except top right via Cabaret Collection website.
Meeting Tao, proprietor of Cabaret (672 Queen Street West), was like meeting an old friend.  He's warm and friendly and passionate about fashion.  And the dresses — oh, the dresses!  Every piece in the Cabaret Collection is handmade in Toronto.  The collection oozes vintage-inspired glamour.  Their styles are made to flatter and most feature shorter hem lines than more traditional wedding gowns.  The Cabaret Collection is for the bride with a sophisticated and unique style.  
Click here to see the entire collection and order online!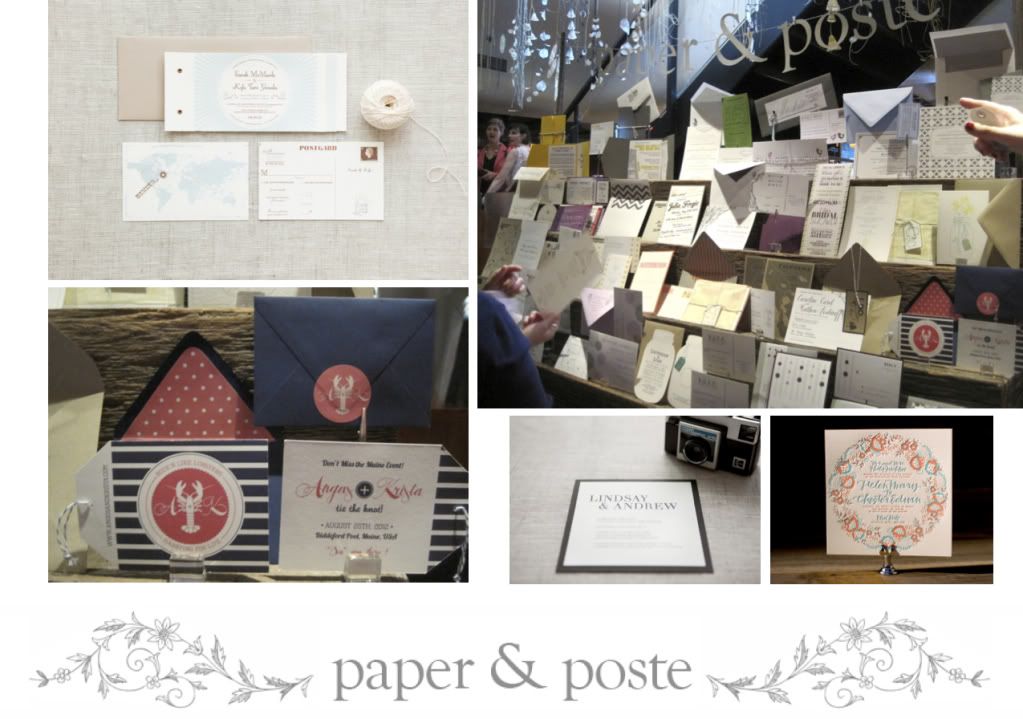 Top left, bottom right and bottom far right photos via Paper & Poste online gallery.  
I get seriously excited about stationery.  It's actually kind of embarrassing.  The Paper & Poste display table at the show had me feeling all jittery and jumpy.  So.much.pretty.paper.  Some how I didn't know that Heather and Beckee, owners of The Paper Place (887 Queen Street West) also design wedding invitations from an appointment-only studio around the corner (198 Walnut Avenue).  These gals are crazy paper lovers.  They specialize in letterpress printing and offer a wide range of styles, from modern to traditional, fancy to minimal.  
Visit the Paper & Poste website to check out their collections and custom work and set up your appointment.  
Top right photo via The Little Letter Papery website
Bika designs beautiful invitations.  Her designs, sold online at The Little Letter Papery, are bold and graphic yet minimal and understated.  They feature striking typography and sweet details like pretty twine, patterned envelope liners and vintage stamps.  What's even more beautiful is that Bika strives to be kind to the environment.  She recognizes three or four piece invitations for one hundred guests means a lot of paper and ink.  Her invitations are printed in Toronto by Pixel Print (1319 Dundas St West) using eco-friendly ink.  All her designs are customizable and she also does completely custom invitations.  
Visit The Little Letter Papery and see more of Bika's designs!
*One correction: Bika actually uses eco-friendly paper from Pixel Print, not ink.   Thanks, Bika!
Top and bottom right photos via Pomp & Plumage Etsy store
Husband and wife teams get me every time!  Collaborating together has served designers Denise and Ian well.  Pomp & Plumage has been featured in magazines, wedding blogs and even in Anthropologie's wedding line BHLDN.  What captures me is the details and textures of their pieces.  Every design is handcrafted-to-order using high quality materials including vintage rhinestones, antique brass and only the finest plumes.  A headpiece, boutonniere or bracelet may be only a tiny part of your wedding day but, if you ask me, it's the small things that makes a wedding unique.   
Find your perfect wedding-day details on the Pomp & Plumage website or Etsy shop. 
Top, middle and bottom right images via Pomp and Ceremony Etsy shop
Pomp and Ceremony was born out of designer Andrea's love of Liberty of London fabric.  Bow ties, neck ties, hats, headbands — you name it, she makes it in Liberty!  Lovers of paisleys and sweet floral patterns will feel like a kid in a candy shop at Pomp and Ceremony's Etsy shop.  Andrea is also another one of Toronto's artisans representing Canada over at BHLDN, Anthropologie's wedding line. 
There's even more! Andrea also creates bib necklaces (like the one she's wearing), 'UrbanTurbans' and collars.  Stop by Pomp and Ceremony's website or these Toronto retailers and check them out.  
Oh! I almost forgot to tell you how you can enter to win a pair of roundtrip tickets to ITALY!  The first twenty couples that book a wedding planning package with Devoted to You between now and December 31, 2012 are entered to win.  Click here for more details about the contest or here to find out about Devoted to You's packages.
Let's help each other shop local and handmade!  Are you working with any local artisans or vendors to make your wedding day special?  To share your discoveries with other brides, leave a comment below.  
All photos by Rachel Headley unless otherwise stated. 
cabaretvintageblog likes this
theblocktoronto posted this